About the Global Design Challenge 2022
The Global Design Challenge for Sport and Physical activity is a worldwide search for ambitious, innovative ideas to get people physically active. We believe that EVERY MOVE COUNTS!
 The challenge is being led by University College Cork, in association with Sport Ireland, under UNESCO patronage and supported by national, European and international sports and physical activity related organisations.
 The challenge is free to enter and there are incubation support prizes to turn the winning ideas into reality.
The challenge
The Global Design Challenge is to design innovative ways of increasing participation in sport and physical activity in an inclusive, sustainable and fun way!
 There are 8 sub-challenges that we are particularly interested in, we want innovative ideas of how to:
Increase opportunities for engagement in sport and physical activity ensuring that it is accessible to everyone of any ability, gender, age, race or socio-economic background – INCLUSION
Inspire community-level engagement in sport and physical activity for all ages – COMMUNITY
Re-engage participants, volunteers and fans with sport and physical activity - FANS AND VOLUNTEERS

Use sport and physical activity as a means to achieve the UN Sustainable Development Goals and evaluate its impact - POLICY-FOCUSED
Reimagine sport and physical activity (space and place; funding models) to make it more sustainable and resilient to shocks and change – SUSTAINABILITY
Motivate children and youth to engage in sport and physical activity, that leads to life-long interest - YOUTH-BASED

H

arness technology to radically change the way sport and physical activity are imagined - TECHNOLOGY-BASED
Integrate sport and physical activity into leisure and lifestyle activities e.g., cycling for transport, gardening for food security - LIFESTYLE PHYSICAL ACTIVITY
The challenge runs from October 10-14th 2022, the key dates of the challeges are shown below: 
Registration for the competition: Opens on September 19th. During this time you can register and will get access to webinars and other resources to help you develop your submission. Registration can take place until the end of the competition on October 14th.
Competition:

  October 10-14th

.

You and your team will analyse the challenge you see in sport and physical activity and create innovative solutions to submit to the judging panel by 17h00 GMT on October 14th

.
Judging: October 17–21st.

All submissions will be judged by a panel of international experts and a shortlist of teams will be announced.

Awards:

October 28th

. 

The judges will select and announce the 5 winners of incubation support.

Incubation and Incubation Masterclasses:

2023

.

 Team/ideas finding partners and/or investors will continue to develop their ideas towards implementation.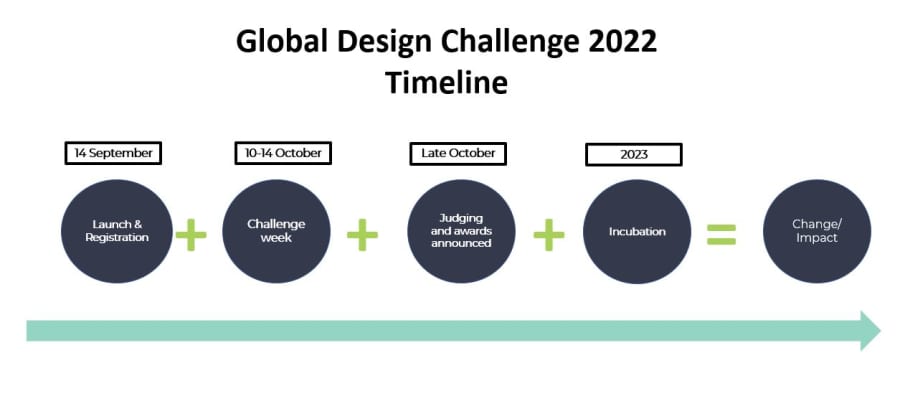 Judging Criteria
Submissions will be judged according to 3 equally weighted criteria:
Creativity and innovation in sport and physical activity
Impact on the identified challenge and towards the Sustainable Development Goals
Feasibility of successful practical implementation of the idea  
Requirements
1. Team Lead and team members names, affiliated organisations and Linkedin profiles
2. Country of submission 
3. Main category of submission (select up to 2 of the following sub-challenges)
·      Inclusion
·      Community
·      Fans and volunteers
·      Policy-based
·      Sustainability
·      Technology-based
·      Youth-based 
·      Lifestyle physical activity
4. What is the focused challenge you are addressing (max. 20 words) 
5. Overall idea description (max. 200 words) 
6. Outline how your submission meets the 3 judging criteria:
·      Creativity and innovation (max. 100 words)
·      Impact on identified challenge and UN Sustainable Development Goals (max. 100 words)
·      Implementation feasibility (max. 100 words) 
7. Idea development stage (select one of the following)
·      Early testing/brainstorming stage
·      Tested and piloted
·      Piloted and ready to roll out
·      Rolled out and ready to expand  
8. Video pitch of no more than 2 minutes
9. Attach any other supporting documentation e.g., results of previous pilots, papers, etc.
Prizes
€15,000 in prizes

Prizes
The overall winner will receive an Incubation Token worth EUR 15,000 to be spent at an incubation centre/university, developing the winning idea.
Along with the overall winner, 4 further runners-up will be given 5 incubation Masterclasses to help them take their ideas to the next stages of development.
UNESCO Chair Special Recognition Awards for Developing Countries (3)
The UNESCO Chair will select up to 3 teams for special recognition of their contribution to the development agenda.
UNIC Engaged Research & Innovation Award for Development Support (2)
The Awards will provide phased development support to progress the winners potential through structured pathways within UCCs innovation and research eco-system, delivered by UNIC CityLabs in partnership with IGNITE at UCC.
Devpost Achievements
Submitting to this hackathon could earn you:
Judges
Mogens Kirkeby
President, International Sport and Culture Association
Catherine Carty
UNESCO Chair for "Transforming the Lives of People with Disabilities their families and communities through PE, Sport, Recreation and Fitness", Munster Technological University
Dr Fiona Chambers
Founder of GDC, University College Cork
Eamon Curtin
IGNITE, University College Cork
Dr Nathan Hall
Brock University
Prof Brian Culp
Kennesaw State University
Dr Sue Whatman
Griffith University
Jackie Lauff
CEO at Sport Matters
Dr Jeff Gomez
Sport Performance Manager, UCC and GDC 2021 participant
Laska Nenova
Placemaking Europe Board Member
Michael McGeehan
Sport Ireland
Dr Julia Walsh
Le Trobe University
Richard Way
CEO, Sport for Life
Prof Cheryl Walters
Nelson Mandela University
Martin Creaner
World Broadband Association
Judging Criteria
There are 3 criteria
• Creativity and innovation in sport and physical activity • Impact on the identified challenge and towards the Sustainable Development Goals • Feasibility of successful practical implementation of the idea